PASADENA, Calif, November 13, 2023 – Heliogen, Inc. ("Heliogen") (OTCQB: HLGN), a leading provider of AI-enabled concentrating solar energy technology, today provided its third quarter 2023 financial and operational results.
Third Quarter 2023 Highlights
$73 million contracted revenue backlog driven by a diverse set of projects ranging from Generation 3 concentrated solar power ("CSP") to green hydrogen to sustainable aviation fuel
Recognized revenue of $2.3 million, bringing year-to-date revenue to $5.6 million
Ended the quarter with $91.6 million in available liquidity
Operating Highlights
1.8 gigawatts ("GW") in opportunity pipeline, an increase of over 1.0 GW since August 2023
Initiated construction in October 2023 on the Heliogen steam plant in the Permian Basin after executing a land lease in Plains, TX
Developed and executed on an $8 million annual operating cost reduction plan in October 2023, forecasted to fund both investment and operating needs of Heliogen through the end of 2024
Completed design verification of the particle receiver for the world's first fully integrated Generation 3 CSP plant and deployed it for on-sun testing
Executive Commentary
"During the third quarter of 2023, we continued to translate Heliogen's strategic vision into tangible achievements, advancing our mission to decarbonize industry," said Christie Obiaya, Heliogen's Chief Executive Officer. "We believe our expanding opportunity pipeline underscores the market's interest in our solutions. Furthermore, our recent milestones in the deployment of our Generation 3 CSP product mark a breakthrough in solar thermal technology."
Ms. Obiaya added, "We're not just innovating; we're scaling and optimizing. Our proactive cost reduction strategy positions Heliogen to continue our pioneering work through the end of 2024 based on our current business plan and assumptions. Our commitment to our shareholders, customers and the planet remains as steadfast as ever, as we push the boundaries of what's possible in renewable energy."
Third Quarter 2023 Financial Results
For the third quarter 2023, Heliogen reported total revenue of $2.3 million and net loss of $18.6 million. Heliogen's revenue was driven primarily by continued execution on its Capella project. Heliogen's Adjusted EBITDA was negative $19.0 million for third quarter 2023.
As of September 30, 2023, the Company had liquidity of $91.6 million, consisting of $63.4 million of cash and cash equivalents and $28.2 million of investments, and no substantial debt.
Conference Call Information
The Heliogen management team will host a conference call to discuss its third quarter 2023 financial results on Tuesday, November 14, 2023, at 10:00 a.m. EST. The call can be accessed via a live webcast accessible on the Events & Presentations page in the Investor Relations section of Heliogen's website at www.heliogen.com. The call can also be accessed live via telephone by dialing 1-877-407-0789 (1-201-689-8562 for international callers) and referencing Heliogen.
An archive of the webcast will also be available shortly after the call on the Investor Relations section of Heliogen's website.
Open Conference Call Question Submission
Members of the investor community may submit questions before the start of the conference call for consideration via email to louis.baltimore@heliogen.com.
About Heliogen
Heliogen is a renewable energy technology company focused on decarbonizing industry and empowering a sustainable civilization. The company's concentrating solar energy and thermal storage systems aim to deliver carbon-free heat, steam, power, or green hydrogen at scale to support round-the-clock industrial operations. Powered by AI, computer vision and robotics, Heliogen is focused on providing robust clean energy solutions that accelerate the transition to renewable energy, without compromising reliability, availability, or cost. For more information about Heliogen, please visit heliogen.com.
Backlog
Contracted revenue backlog represents contracted revenue with customers and government entities we expect to realize for the construction of facilities, engineering services agreements, operating agreements, and products delivered under purchase agreements. We cannot guarantee that our revenue projected in our backlog will be realized or, if realized, will result in profits. In addition, project cancellations or scope adjustments may occur with respect to contracts reflected in our backlog. Accordingly, our backlog as of any particular date is an uncertain indicator of future earnings.
Use of Non-GAAP Financial Information
Management uses certain financial measures, including EBITDA and Adjusted EBITDA, to evaluate our financial and operating performance that are calculated and presented on the basis of methodologies other than in accordance with generally accepted accounting principles in the United States of America ("GAAP"). We believe these non-GAAP financial measures are useful to investors and analysts to assess our ongoing financial performance because they provide improved comparability between periods through the exclusion of certain items that we believe are not indicative of our core operating performance, enhance the overall understanding of our past financial performance and future prospects, and remove items that may obscure our underlying business results and trends. These measures should not be considered a substitute for, or superior to, measures of financial performance prepared in accordance with GAAP, and our calculations thereof may not be comparable to similarly titled measures reported by other companies.
EBITDA represents consolidated net loss before (i) interest (income) expense, net, (ii) income tax expense (benefit) and (iii) depreciation and amortization expense. We define Adjusted EBITDA as EBITDA adjusted for certain significant non-cash items and items that management believes are not attributable to or indicative of our on-going operations or that may obscure our underlying results and trends. Please see the accompanying tables for a reconciliation of net loss to EBITDA and Adjusted EBITDA.
Forward-Looking Statements
This press release contains certain forward-looking statements within the meaning of Section 27A of the Securities Act of 1933, as amended, and Section 21E of the Securities Exchange Act of 1934, as amended. Statements that are not historical in nature, including the words "anticipate," "expect," "suggests," "plan," "believe," "intend," "estimates," "targets," "projects," "should," "could," "would," "may," "will," "forecast" and other similar expressions are intended to identify forward-looking statements. These forward-looking statements include, but are not limited to, statements regarding our expectation that our cost reduction strategy will position us to continue our work through the end of 2024, achieving our commitment to shareholders and our expanding opportunity pipeline. Forward-looking statements are predictions, projections and other statements about future events that are based on current expectations and assumptions and, as a result, are subject to risks and uncertainties. Many factors could cause actual future events to differ materially from the forward-looking statements in this press release, including but not limited to: (i) our financial and business performance, including risk of uncertainty in our financial projections and business metrics and any underlying assumptions thereunder; (ii) the delisting of our common stock on the New York Stock Exchange; (iii) changes in our business and strategy, future operations, financial position, estimated revenues and losses, projected costs, prospects and plans; (iv) our ability to execute our business model, including market acceptance of our planned products and services and achieving sufficient production volumes at acceptable quality levels and prices; (v) our ability to access sources of capital to finance operations, growth and future capital requirements; (vi) our ability to maintain and enhance our products and brand, and to attract and retain customers; (vii) our ability to scale in a cost effective manner; (viii) changes in applicable laws or regulations; (ix) developments and projections relating to our competitors and industry; (x) unexpected adjustments and cancellations related to our backlog; and (xi) our ability to protect our intellectual property. You should carefully consider the foregoing factors and the other risks and uncertainties disclosed in the "Risk Factors" section in Part I, Item 1A in our Annual Report on Form 10-K for the year ended December 31, 2022, as supplemented in our Quarterly Report on Form 10-Q for the quarter ended March 31, 2023, and other documents filed by Heliogen from time to time with the Securities and Exchange Commission. These filings identify and address other important risks and uncertainties that could cause actual events and results to differ materially from those contained in the forward-looking statements. Forward-looking statements speak only as of the date they are made. Readers are cautioned not to put undue reliance on forward-looking statements, and Heliogen assumes no obligation and does not intend to update or revise these forward-looking statements, whether as a result of new information, future events, or otherwise.
Heliogen, Inc.
Condensed Consolidated Statements of Operations and Comprehensive Loss
($ in thousands, except per share and share data)
(unaudited)
(1) Periods presented have been adjusted to reflect the 1-for-35 reverse stock split on August 31, 2023.
Heliogen, Inc.
Condensed Consolidated Balance Sheets
($ in thousands)
(unaudited)
Heliogen, Inc.
Reconciliation of Net Loss to EBITDA and Adjusted EBITDA

($ in thousands)
(unaudited)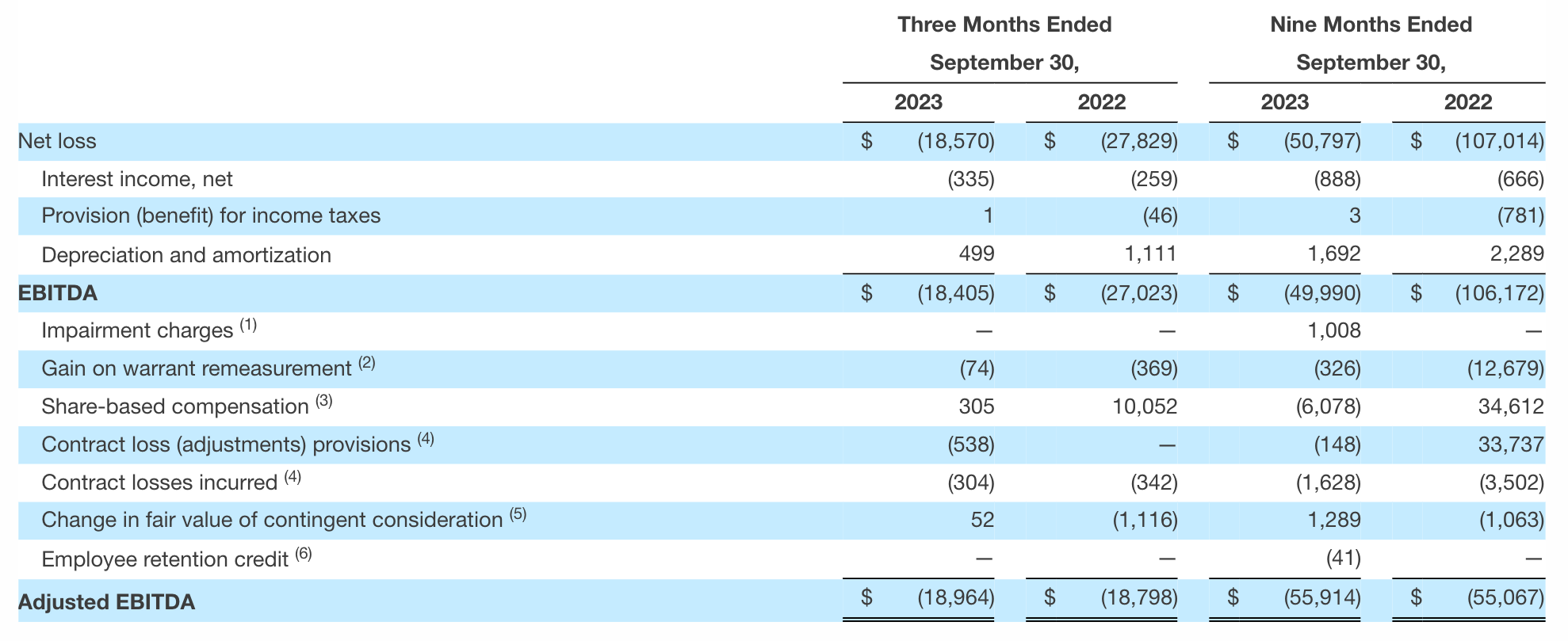 Represents the impairment of goodwill associated with the acquisition of HelioHeat GmbH (the "HelioHeat Acquisition").
Represents the change in fair value on our outstanding warrant liabilities.
Share-based compensation for the nine months ended September 30, 2023 includes a net reduction of $12.5 million of expense as a result of stock options forfeited in connection with the termination of our former Chief Executive Officer.
Represents contract loss (adjustments) provisions with customers for which estimated costs to satisfy performance obligations exceeded considerations expected to be realized. The contract loss (adjustment) provision is reduced and recognized in cost of revenue as expenditures are incurred and related revenue is recognized.
Represents the change in fair value of our contingent consideration related to the HelioHeat Acquisition.
Represents an adjustment to the employee tax credit to the Coronavirus Aid, Relief, and Economic Security Act (CARES Act) recorded as grant revenue in the fourth quarter of 2022.